5 Tips for a Seamless E-commerce Experience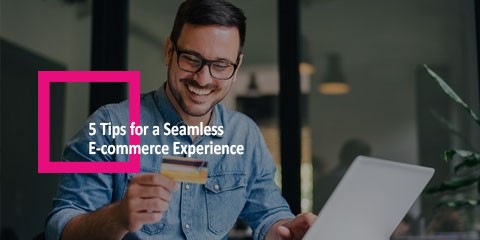 E-commerce trading increases exponentially before and during the holiday periods, think of Easter, Valentine's Day and the popular Black Friday promotions and Cyber Monday specials. Get prepared for the influx of customer orders with these online shopping tips.
1. Make the checkout process smooth and simple
Shopping cart abandonment usually happens because the checkout process on websites is too complicated. Instead, opt for a user-friendly and straightforward process to ensure customers complete the checkout steps without fail and pay for their orders. Ideally, retailers should rely on a simple 1-2 step process and avoid requesting unnecessary details – see below.
2. Trim the customer registration process
Customers who have a pleasant experience browsing on your website are more likely to complete the purchasing process. Simplify the registration forms and only request essential information from customers before they proceed to the checkout. Complex registration forms can scare off potential customers, resulting in lost revenue.
3. Reward your loyal customers
Allow your regular customers to purchase with the click of a button once signed-in, without having to re-introduce their details. Keep in touch with your customer database via e-newsletters and offer exclusive promotions for your most loyal frequent buyers. Reward your best clients and increase your average sales per customer!
4. Follow-up on abandoned carts
Sometimes customers leave the checkout process with plans to return later to complete their purchase. Be proactive and retain your customers by reminding them via email to finalise payment. Ensure that shopping carts don't clear automatically when customers exit the website and hold items for 48-72 hours to give clients a chance to return.
5. Secure payment gateways
Establish customer trust through secure payment gateways. Security can be a deal-breaker for most customers looking to buy products and services online. Invest in a secure gateway that allows for multiple payment methods, including bank transfers and popular digital payments portals such as PayPal. Don't forget to provision for refunds and product returns!
IQ Retail, a Kerridge Commercial Systems Company, specialises in innovative accounting and retail management solutions. Contact IQ Retail to find out how our retail solutions can benefit your business.