Automate Your Retail Business with a POS System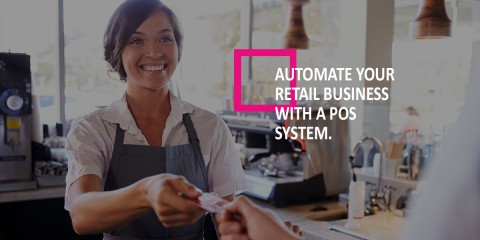 The main advantages of using POS software is the automation of sales operations, ease of use and to streamline processes. If your business is still taking the manual approach to stock tacking, invoicing, and various other transactions, a POS  solution is an absolute must to run your retail business more efficiently.
Boost Sales and Profit Margins
With a POS system in place, your business can oversee and automate all critical retail operations at the point of sale, such as invoicing, billing, sales orders, refunds, barcode scanning and other customer benefits like promotions. No more manual transactions!
POS systems will maximise retail sales efficiencies, speed and revenues while providing the much-needed opportunity to focus on business productivity, profitability and reporting to enable future growth and strategic decision-making.
Reduce Operational Costs
Implementing a POS system can drastically reduce operational and labour costs while providing an efficient solution to control inventory data and product stock, and manage point of sale transactions promptly at checkout.
Not having to re-enter information and update stock numbers manually frees time and resources that can be better used elsewhere. For example, staff can focus on selling more products, upselling, cross-selling, and providing a better service to the customers.
Improve Customer Service
A POS system can assist your business in automating daily operations so that you can focus on customer interactions and provide a satisfying customer experience at all times. A user-friendly, functional and integrated POS system delivers essential customer information to help improve service delivery.
You can use the product and customer data in the system to identify specific buying trends, best-selling products, and the performance of various promotions, discounts, and integrated loyalty benefits. This information can be integrated into the business strategy to your advantage and for the benefit of your customers.
IQ POS is a fully integrated solution for point-of-sale data with built-in flexibility for single or multi-site terminal capability.
Contact IQ Retail to find out how our retail solutions can benefit your business. Visit www.iqretail.co.za for more information.