Future-proof Customer Service with These Retail Mobile Apps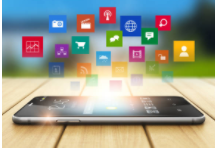 In today's competitive retail market, mobile apps have become the go-to advantage to better serve customers as well as to streamline internal processes in a faster, and more efficient way.
Order capturing (eSales) and electronic proof of delivery (ePOD) applications, can make a huge difference to businesses with a major value add to customers on the receiving end. These apps offer advanced functionality at a fraction of the cost and time required by manual tasks or older methods.
A good eSales and ePOD application that integrates into an ERP or business management system, can provide both a tech as well as a competitive advantage in the marketplace. It is becoming more of a requirement today to stay ahead of the curve, to streamline processes and to digitize key functions. Which is exactly why IQ Retail have developed these two applications.
Mobile order capturing - eSales
The more accurate you capture customer orders, the faster you can fulfil their demands and quote according to the specs. An easy-to-use system that can handle all customer requests, enabling quick access to relevant inventory data as needed will improve your customer service dramatically.
Nowadays, you can consider a mobile order capturing application that simply integrates with your retail software. Once the customer order is confirmed via the app, it is immediately imported and processed in the retail system.
In-store or remotely, the mobile order capturing app connects with inventory to display the latest product details, including images, pricing, and stock availability. An advanced search of your product database via the mobile app assists sales teams in identifying the right products for customers and recommending products to cross-sell or up-sell accordingly.
Mobile proof of delivery - ePOD
In the age of one-click buying and same-day delivery (thanks, Amazon), customers expect faster and more efficient deliveries. Streamline and simplify the delivery process, and you get happy and loyal customers.
Your business can do this easily by installing a convenient ePOD app on their drivers' mobile or smart devices. The app can send and receive timely notifications regarding delivery manifests and its progress.
Digitising the proof of delivery on arrival has multiple advantages. Deliveries are automatically confirmed, there is no paper hassle or lost documents, and staff now have a real-time ability to identify, report and solve potential faults with deliveries as they go, which equals satisfied customers.
The ePOD and eSales mobile apps, developed by IQ Retail, are now available on the Google Play Store.
IQ Retail has developed fully integrated retail management software and add-on solutions for your business or franchise.