The Retail ERP Functionality You Need in 2020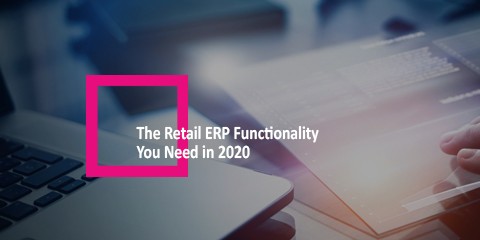 Future-proof your retail business with a top-class high-quality ERP solution that keeps your operations integrated, well-organised, efficient and transparent. Here is some key functionality you should rely on to remain competitive in 2020 and beyond.
Cloud Integration
There's no doubt that cloud computing has major advantages to offer retail businesses, including the integration with applications that streamline and automate basic operations. Think accounting, invoicing, procurement, payroll or budget allocation. The cloud can efficiently host and integrate increasing amounts of data and what's even better is that it is secure.
If you're already considering a unified platform for all your data, make it a cloud-hosted software that incorporates the latest modern technology. It has become non-negotiable to not stay ahead of the curve. Besides, it provides the flexibility and scalability you need to grow your operations in this day and age plus it offers huge benefits in terms of hardware costs associated with maintenance and upgrades and much more. Be sure to choose a solution that bests fits your business needs and industry though.
Data Analysis
ERP software is crucial to integrate, collect and process retail data. However, data analysis is no longer a nice to have but a necessity, with automated business intelligence solutions becoming a reality for most organisations that move away from manual and tedious data analytics.
Invest in a next-generation retail ERP solution that has built-in data analysis functionality to provide your business with advanced and real-time insights into customer data, sales figures, market statistics, and retail trends. This type of data is critical to make informed decisions about growing your business, giving you the competitive edge in the market.
Intelligent Reporting
Real-time reporting is an essential feature of modern ERP software platforms. The ability to visualise and drill-down data in the same dashboard is key to the future of retail decision-making. Reporting is only accurate if the data provided is error-free.
It's important to choose a user-friendly ERP platform that focuses on data retrieval and analysis for immediate real-time reporting and results that are ready for interpretation. Rather invest in a system that understands your industry and reports on the major key performance indicators and advanced retail metrics you need to follow.
IQ Retail, a Kerridge Commercial Systems Company, specialises in innovative accounting and retail management solutions. Contact IQ Retail to find out how our retail solutions can benefit your business.