Why You Should Consider Hosting Your ERP in the Cloud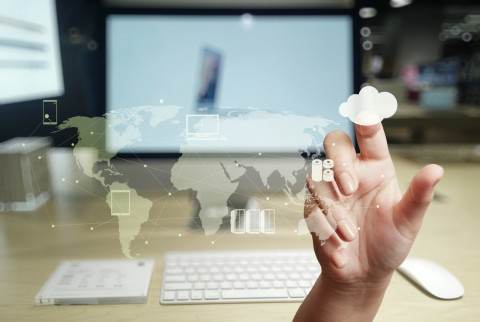 Cloud-based services have become the norm for many businesses around the world. Not only is it a safer option as it mitigates many risks, but it has also become a universal signal that a business has moved on to the next generation of technology. Keeping up with the latest tech to ensure efficiencies, accuracies, security, business intelligence, data collection and management thereof and much more is crucial as not many businesses can afford to fall behind the curve anymore. Data plays a big role in this. From mobile data to more high risk confidential customer and employee data as well as the data and insights around your business, it's crucial to manage this properly. One of the most effective and preferred solutions are to move to the Cloud. Cloud technology has become the most trusted technology used by organisations in all fields around the globe and is gaining more and more prevalence.
In order to move to the cloud, you also need the right systems behind it. High-quality and reliable ERP solutions has become non-negotiable and they slowly but surely been moving to the cloud for many year.  Many ERP solutions have moved to the cloud in the hopes of mitigating some of the risks that come standard with the more traditional systems. If you're wondering why you should make the move to the cloud, here are three reasons it will change your business:
Cloud services eliminate human error
The more traditional (read outdated) ERP solutions rely on older tech, on premise servers, related maintenance, human input and more. Not only does this give way to human error, but it also means that data safety could be compromised. With an ERP solution that is cloud-based, the risk of human error is mitigated and data security remains untarnished. A quality, modern, and reliable ERP solution will be cloud-based from the onset, and certain cyber security measures are put into place for stratified permissions controls. The cloud solution offers secure gateways for remote access, document management systems that prevent the download of sensitive data, and on-site archival of sensitive information to avoid it falling into the wrong hands.
Cloud services allows greater BI capabilities
Cloud-based ERP solutions are innovative because they easily integrate with other operations that make businesses run smoothly. Extracting data is simple when Business Intelligence (BI) programmes can connect with the organised data storage and user activity records available through an ERP. There are built in analytics features where administrators and board members can do information drill-downs for critical decisions, as well as extracting up real-time graphics and reports during meetings.
Cloud-based ERP systems reduce overall costs
Cloud-based ERP systems have a low implementation cost as opposed to the traditional, hosted model. Due to the fact that there is no hardware setup, the system can hit the ground running without the business experiencing system down time. Server maintenance is eliminated, meaning the IT department is also alleviated of tedious and time-consuming trouble-shooting tasks, and any software additions and upgrades happen in the cloud without system-wide downtime which saves invaluable work hours.
If you are looking to upgrade your ERP solution to one that is cloud-based, be sure to click HERE and contact us today for a solution that best suits your business needs