Up Your Game with a Leading Delivery Solution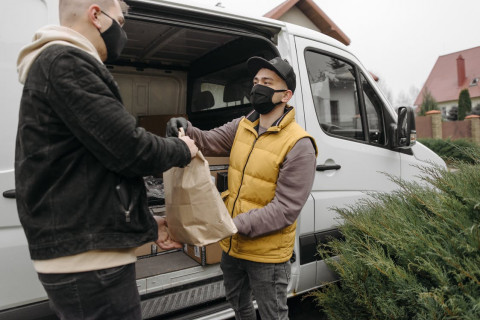 Times have changed and ensuring your business runs on the latest technology has become key. If you are managing online deliveries, especially nowadays with the many COVID-19 restrictions, an electronic proof of delivery (ePOD) application will help you gain control of your customer delivery cycle, improve on your customer service, modernise and digitize your business, as well as eliminating common delivery issues, such as:
Time delays
Missed deadlines
Inventory shortages
Errors, such as delivering the wrong goods to the wrong client
Out of date customer service
Fast-track deliveries
The integration of an ePOD application to an industry-grade business management software solution speeds up transaction success and ensures customer satisfaction by checking and confirming all deliveries in real-time, as and when they happen.
Eliminate paperwork
An ePOD system is a mobile application installed on the driver's mobile or smart device, with the aim of digitally capturing the proof of delivery.  Therefore, it replaces the manual pen and paper method of handing out delivery notes, eliminates old school paperwork, is more environmentally friendly and much more.
Quickly fix delivery errors
The digital proof of delivery serves as evidence that delivery was successfully completed. Alternatively, in case things don't turn out as planned, the office gets notified in real-time to handle the issues quickly and efficiently. Deliveries can resume without further delays.
Improve customer experience
Deliveries have a major impact on customer satisfaction. Modern ePOD systems assist drivers and delivery teams in minimising delays and errors, thanks to advanced inventory tracking and real-time data transfer when the app is connected to.
Optimise drivers' routes
Drivers receive their delivery manifest on the mobile app containing all the relevant customer data, e.g. name and delivery address. Based on this information, drivers can optimise routes to include more productive delivery times, thus saving substantial time in-between deliveries as well as saving on fuel by working efficiently.
Improve network communication
In a nutshell, the ePOD application acts as a time-efficient liaison between drivers en route to the customer and the office. It improves business communication, which ultimately ensures that the goods get delivered on time and within budget.
Reduce operating costs
Electronic proof of delivery systems are designed as cost-effective mobile applications that require little to no hardware to operate, cutting down costs. Try IQ Retail's ePOD app, designed to integrate seamlessly with our retail ERP software or POS solution.
IQ Retail has developed fully integrated retail management software and add-on solutions for your business or franchise.