Apple Tool & Gas chooses IQ Retail to Streamline their Business Processes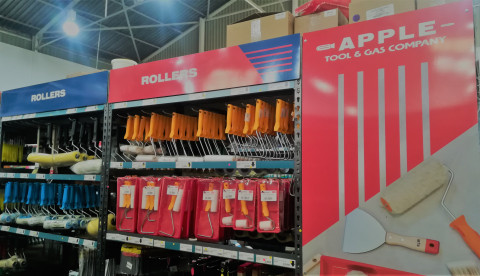 Founded in 1963, Apple Tool & Gas is a proud family business with about 43 employees based in the Helderberg area in The Western Cape. Apple Tool & Gas is a specialized supplier of a wide range of Power Tools, Welding equipment, Fasteners, Safety Equipment, general Hardware, Hand Tools, Bolts & Nuts and various other products and accessories for Professionals, Homeowners & DIY Experts.
Apple Tool & Gas has been an IQ Retail client since 2015 and signed up for 21 IQ Enterprise terminals.
Madeleine, Accountant at Apple Tool & Gas Company, said "Apple Tool & Gas had an existing system in place before we opted for the IQ product. We were dealing with a lot of issues so needed to find an alternative solution. When I started at the company, I inherited all these issues. They were running a million different shows and companies inside their old system that was making trading very complex and difficult."
Madeleine added, "I am a former software programmer so I know what works and what doesn't work in terms of handling retail stock, hence we were looking for something that would better suit our needs and came across IQ Retail."
Madeleine commented, "I visited the IQ premises in 2017 for my IQ training, and I dealt with IQ themselves too when I ran in to some issues that I needed to sort out and I can honestly say my interaction with them has been really good, they provide good customer support, their service offering is great,  and our authorized IQ Business Partner, IT BLUE, also provides us with excellent service! I can phone him any time, and I have had no problems on feedback or where I have had to wait for a long time to be helped."
Madeleine added, "IQ Retail is a very reliable program. It definitely gave us a much better perspective of what's going on in the business and we could trust the figures in the system. When I started at the company about 4 years ago, I inherited some issues and we couldn't rely on a proper stock take with our previous program."
Furthermore, Madeleine said, "I think IQ Enterprise is an excellent solution. I have worked on a lot of big well-known programs in the past and compared to them I think IQ Enterprise is a great program!"
IQ Enterprise is a fully integrated broad based financial and functional solution that offers multi-branch centralisation and stock synchronisation.
Gains & Benefits of IQ Enterprise that Apple Tool & Gas enjoys:
Comprehensive stock reporting and customisation of standard reports
Ability to view audit trails for any transaction
Real-time access to actual data and performance
Improvement in all areas of stock & supply chain management
Control over theft and stock shrinkage
Streamlined critical control processes
Flexible merchandising supply
Centralised Debtors/Creditors/Ledger across multiple companies
Advanced User-Friendly Filtering
Madeleine added, "With IQ Retail as your business management solution you get your money's worth. It's a reliable solution that's easy to understand and there are so many different features that assist you in your day to day trading."
For more information: https://applehardware.co.za/