DIY Depot Taung implements IQ Enterprise to improve inventory & business processes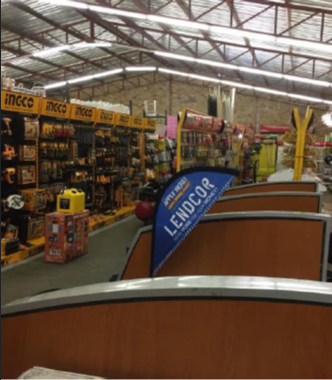 DIY DEPOT Taung is part of Legendary Retail Brands, a fully licenced retail holdings company comprised of well-known and favoured franchisors. DIY Depot is one of the largest hardware groups in Africa with over 140 stores nationwide. Products are sourced from over 150 suppliers to ensure that exact products are available to meet any DIY or building requirement.
An IQ Retail customer since March 2016, DIY Depot Taung required a solution that could control cashflow as well as improve inventory and business processes, while maximising the efficiency of the sales order process, from one centralised system.
Operating in a highly competitive market, DIY Depot Taung implemented IQ Enterprise, a stable and robust solution that offers the best in financial functionality allowing for complete franchise and multi-branch ledger, debtors, creditors and inventory integration.
Alex De Kock, from A & L De Kock Properties (Pty) Ltd, Authorised IQ Retail Business Partner, recommended IQ Enterprise to DIY Depot Taung for its bespoke functionalities, he commented; "DIY Depot Taung has improved overall business performance and efficiency. IQ Enterprise offers an array of modules that meet DIY Depot Taung business requirements. Accounts Receivable allows for the tracking of debtor performance and reporting on outstanding accounts, while Accounts Payable enables them to define an unlimited number of suppliers and apply their terms to their business. They are able to better manage inventory with the built-in item cascading functionality, making it possible for them to purchase items in bulk in a specific unit of measure and then sell them as different single items. They automatically calculate the stock they require using the re-order report, in conjunction with the re-order level and re-order quantities functionality."
DIY Depot will further benefit with IQ Enterprise and have access to:
Drill-down enquiries to view transactions on an item
View audit trails for any transaction
View sales and purchase history per item, per department, per group for any day, month or year
Integrated processing of Invoices, Credit Notes, Goods Receiving, Returned Goods, Purchase Orders, Sales Orders, Job Cards
Comprehensive stock reporting and customisation of standard reports
Invoice directly from Quotes, Sales Orders, Job Cards and GRV directly from Purchase Order
Henry Jordaan, Owner, DIY Depot Taung said "We are pleased to have implemented IQ Enterprise; the solution supports our overall requirements with improved control over our cashflow. The solution's rich functionalities have also contributed to overall improvements in our business processes and the necessary controls and efficiencies required".
About DIY Depot
DIY Depot carries a wide range of building products including cement, bricks, sand, timber and other extensive categories of building products. They also offer a specialised key cutting depot, a paint tinting department and a wide range of DIY products including plumbing, electrical, TV, brushware, garden, swimming pool, tools, power tools, ironmongery, security and many more categories all under one roof. DIY DEPOT stocks famous high quality brands such as Plascon, Afrisam, Academy, Ellies, Efekto, Eureka, Eurolux, Gardena, Jojo, Marley, Ruwag, SA Ladder, Seagull, Flash Harry, Promac, Qualitools, Sprayon, Woodoc, Swartland and much more to suit your building project needs.