Garner Wafers Chooses IQ Retail to Streamline Their Processes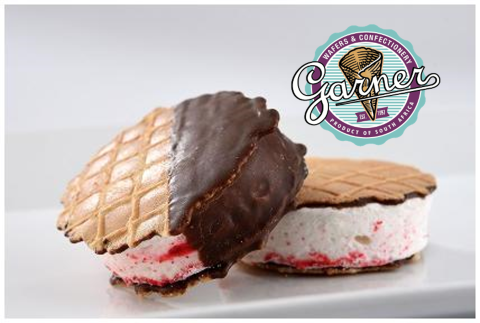 Garner Wafers was established in 1997 mainly as a sugar cone manufacturer.  Over the past few years, Garner Wafers has expanded its product line from sugar cones to sweet confectionery products, chocolate coating lines, waffles, sauces, syrups, and various ice cream lines which include ready to serve frozen desserts. Garner Wafers is owned by Elsabe Hoal and Shaheed Hendricks, who are very passionate about their business.
According to Elsabe, Garner Wafers has over 100 staff members in their team. "We have been using IQ Retail for more than 18 years. We recently upgraded to IQ's latest system with modernised features and functions. Our IQ Enterprise now runs on 64bit, making the speed a lot faster and reporting much more efficient than previous versions."
With IQ's flagship solution now having been upgraded to the latest technologies, a broad range of new and innovative features are available, all designed to drive greater efficiencies and deliver even better customer service. The powerful analytics and dashboard displays let you see what's happening in real-time, and help you continually stay on top of your business.
Elsabe went on to add that: "IQ is quite all-encompassing and fits our business as a manufacturer quite well.  We use quite a bit of the functionality apart from the basic accounting modules; like bills of quantity, point of sale, etc. We look forward to familiarising ourselves with the deliveries and collections module, as well as the batch control module soon, which will become essential in our business."
She further mentioned that "IQ Retail is an all-in-one solution for all our needs, to a versatile business – we don't need to have external stock software or point of sale or batch control.  We can manage all of this in one programme. I especially like the fact that we can make suggestions and IQ improves on these suggestions to better the system and satisfy our specific needs. Our favourite feature of the IQ Retail system is definitely bills of quantity.  We manufacture over 400 products, and this is the module we use the most and is integral for our stock control.  This module is also what we use for our traceability."
Some of the additional benefits of using the system, which Elsabe included are:
The effectiveness of the accounting package
The system's user-friendliness
The permissions functionality, which limits the types of tasks certain user roles can perform.
She further stated that "The more effective the accounting package is, the more effective the financial control will be in the business, which will lead to the success of the business and hence the staff. Because of IQ's different modules, it really helps us to streamline our processes from raw materials to a completed product that can be sold across various warehouses." 
In closing Elsabe added, "I would recommend IQ Retail. It is a complete package and offers a lot of functionalities; with inventory, accounting, tracking, quotation and point of sale software.  IQ is in South Africa, and the fact that you can phone and sort out issues and speak to someone is the biggest benefit of using a well-designed accounting package that is so much more than just accounting."
Gains and benefits of IQ Enterprise that Garner Wafers enjoys:
One consolidated graphical view of the company's key performance indicators
Performance improvements of up to 60%
A broad range of standard stock and sales management reports to choose from
Sophisticated sales order management
Powerful stock control and purchasing
Fully-integrated financials
Easy, yet powerful analysis
Customised reports and advanced filtering engine
Invoice directly from the sales order
Streamlined critical control processes
Flexible merchandising supply
Real-time access to actual data and performance
Email statements and invoices to customers
Strong back-dating functionality
Multiple stock ordering formulas per stock item
Integration of debtors, stock, and general ledger
Advanced security, integrity, and support
Drilldown functionality to manage inventory and employees
User-definable menu shortcuts
For more about Garner Wafers, visit their website:
www.garner-wafers.com