KCS's own Paddy and The Princess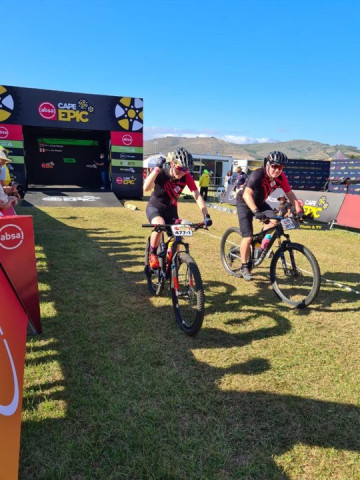 At Kerridge Commercial Systems we love celebrating our people, both in a professional as well as in a personal capacity.
Over the last week Des Nangle, Global President of Business Development for Kerridge Commercial Systems, and his daughter, Chloe Nangle, formed a team called Paddy and The Princess. The duo braved one of the toughest mountain biking races in the world, aka The Cape Epic, and are proud to have crossed the finish line on 27 March 2022.
The Cape Epic runs over the course of 8 days and spans 700km's and 17,000m of vertical ascent. The terrain is brutal but their surroundings beautiful. It is however not for the faint hearted; the climb is intense, temperatures rise in to the early forty degrees Celsius and some days you might not feel a breeze and on other days you might feel too much of a breeze.
Des and Chloe tackled this tough adventure, representing Kerridge Commercial Systems and they most certainly held our name high.
They had a massive support group who cheered them on all the way and what an adventure it was to follow their progress.
Des commented "It was an amazing experience to do this with my daughter, something I will cherish for the rest of my life."
Chloe added "It was truly one of the most fun and challenging experiences of my life. Having the opportunity to do it with my father is something I'll cherish forever."
Congratulations to an amazing personal achievement.