Kerridge Commercial Systems Appoints Heather Preu as CEO - North America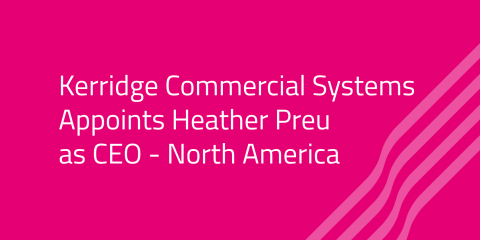 Heather Preu has joined Kerridge Commercial Systems (KCS) as Chief Executive Officer – North America. With a strong background in executive leadership, Heather's recent roles include senior management positions within Infor and IBM, both global suppliers of software solutions.
Heather will take full responsibility for all KCS operations in the USA and Canada, including MAM and KCS (previously known as Dancik and Mincron).
Heather will report to Ian Bendelow (Group CEO). Ian commented "Our group has grown significantly in North America, initially with our acquisition of Dancik, which provides ERP solutions focused on the flooring distribution sector, and then with Mincron, which provides ERP solutions focused on the construction distribution sector. The latest acquisition of MAM, a business focused on ERP solutions for the Automotive sector, has added to this growth. MAM will keep its brand in its specific market place but plays an important part of the group strategy. Dancik and Mincron have been merged into the Kerridge Commercial Systems brand, and our flagship ERP product, K8, has also successfully been launched into the North American lumber market, bringing further organic growth. Additionally, we have opened a new office in Toronto to support this growth. Our strong presence in the North American market, with offices in Houston, Raleigh Durham, Philadelphia and Toronto, place us in a tremendous position to grow even further. Heather's experience, motivational personality and attention to customer service will take the group forward to the next level in North America."
Cary Anderson will report to Heather and continues to run our K8, Nav and Distributor business in Cary and Houston. Mike Jamieson will hand over his responsibilities to Heather.  Mike and his family plan to return to the UK, a decision they made late last year and have also agreed to help with the business transition.  Mike commented "I'm incredibly proud of what the MAM Team have achieved over the past 29 years and I'll be cheering from the side-lines for its continued success as part of the KCS Group.  I've had the pleasure of meeting and working with some wonderful people and have many great memories. I'd like to wish all my colleagues, our customers and partners, all the best for the future."  Mike will work closely with Heather over the weeks to come, ensuring a smooth hand over.  Ian said "we've very much enjoyed working with Mike and appreciate his hard work in helping with the transition to date and for the weeks to come. We know we can count on Mike to help the business continuing forward."
Heather joins KCS following an extensive career in in a number of leadership roles, most recently as SVP and GM Global Solutions at Infor.  Prior to joining Infor she was Global VP Sales Connected Operations and Go To Market Strategy & Enablement Watson IoT IBM and VP Sales NA GE Meridium.
Heather says "I am so excited to be joining the KCS family.  With the ongoing investment in the products and North American business expansion, it is an amazing time to be part of the organization.  With the strength of the products and unsurpassed industry expertise I cannot wait to meet the team and engage with our customers and prospects to share our continued focus on delivering the highest level of customer satisfaction and top industry business solutions."
Ian says, "We believe that our products and services are incredibly attractive for our customers and prospects in the North America market. In appointing Heather we are again demonstrating our commitment to our market."