Kerridge Commercial Systems Celebrates 40 Years of Innovation in Africa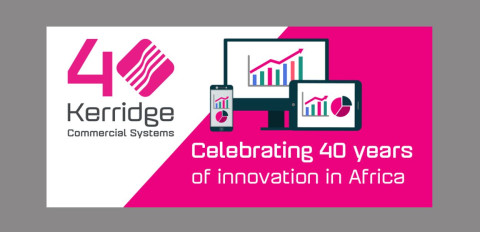 Kerridge Commercial Systems South Africa (KCS SA), industry leading ERP, Retail and Business Management software provider for Distributors, Wholesalers, Retailers and the Plant, Tool and Equipment Hire industry, is excited to celebrate their 40 year anniversary in Africa this year.
The company, which is headquartered in the UK and with offices around the globe, was established in 1976. They expanded on their footprint and opened an office in South Africa in 1982. 'We can honestly say we have grown from strength to strength over the last 40 years. In that time, we have expanded our offering, grown our team, added more offices in Africa (which means we now have offices in Cape Town, Johannesburg and Kenya), and we have most certainly grown our customer base and have some exceptional businesses across Africa on our books. I am really proud of what we have achieved, of how we have grown and of what we are able to offer local businesses,' commented Giuseppe Martini, Managing Director for Kerridge Commercial Systems Africa.
1982 was an interesting year for technology and was also the year after which Time magazine veered from their tradition of choosing a person of the year, for their 'man of the year' cover. Time magazine selected the 'personal computer' as its focus and named it 'machine of the year'. This issue was published in January 1983 and offers an idea of where technology was at during that time.
So much has changed over the last 40 years and it's no different for Kerridge Commercial Systems. The software group's ERP systems have been modernised over the years enabling their customers to source, stock, service and sell competitively, ensuring they keep up with the changing times. Today they offer comprehensive solution based business management systems, with a range of supporting and managed services.
The company have announced many improvements and new solutions over the years. Some of which now includes cloud based solutions, eCommerce platforms, mobile Apps, a retail, accounting and franchise solution for small to medium sized businesses, a plant, tool and equipment hire solution, a BI partnership and much more, in addition to their industry leading flagship ERP system for medium to enterprise sized Distributors and Wholesalers.
"It has most certainly gone both ways where our local customers have been able to leverage off our global solutions and expertise, as the rest of our regions across the globe are also now able to leverage off our African solutions and expertise.
We have built a hub of excellence here in Africa with an exceptional team and have grown our offering to such an extent that our customers in other regions are now able to leverage off our South African born solutions too. We recently launched IQ Retail, our South African developed accounting, retail and business management solution for small to medium sized business and franchises, into the UK and Canada and it's been extremely successful.
'We are proud of what we have built and of what we are able to give back to our local community in terms of job creation, training and employing interns, and much more.' said Martini.
The company is excited to celebrate its 40th anniversary in Africa this year and they look forward to offering many more innovative solutions to their African customer base.