Lawnmower & Repair Centre chooses IQ Retail for its Cost Effectiveness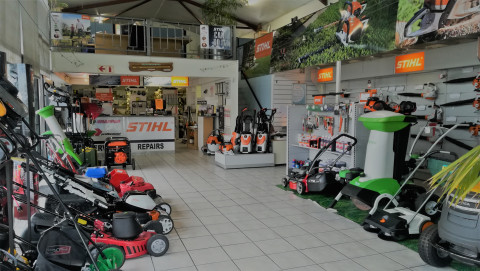 Lawnmower & Repair Centre was established in Somerset West over 30 years ago, and have managed to build up an extensive client base in the Helderberg Basin, serving clients in Somerset West, Strand, Gordon Bay, Betty's Bay, Grabouw, Villiersdorp, Rooiberg and includes regions as far as Upington, Bredasdorp, Worcester and Robertson. They sell, service and repair lawnmowers, chainsaws, brush cutters, blowers, head cutters, generators; STIHL products, BRIGGS & STRATTON and GOSCOR.
Caroline du Toit, Bookkeeper at Lawnmower Repair Centre, said "At our Lawnmower & Repair Centre, we have about 11 staff members in our team. We had no previous system in place and were doing things the manual way before we invested in IQ Retail." Caroline added, "Our first system was IQ Retail's legacy system, IQ DOS, back in 2004. We upgraded to another legacy program, IQ Elite, in 2009 and then upgraded again to a more modern system called IQ Enterprise in 2013."
IQ Enterprise is a fully integrated broad based financial and functional solution that offers multi-branch centralisation and stock synchronisation.
Caroline commented, "We opted for IQ Retail mainly because it was cost effective and easy to use." Caroline added, "Our favourite features of the IQ Retail system is definitely its user friendliness and the fact that it's not as ridged as some of the other systems on the market. I have worked on other systems before and it is much more ridged than IQ - once you pressed enter there is no changing, but with IQ, things are a lot more flexible. Another favourite feature for me is that with IQ we have easy access to our invoices and to retrieve them is quick. IQ really is perfect for small to medium sized businesses. We really have no complaints with our System, it serves us well and to be honest I do not think that we will be able to function as we do, without IQ Retail so we are very happy!"
Gains & Benefits of IQ Enterprise that Lawnmower & Repair Centre enjoys:
Comprehensive stock reporting and standard reports
Customised reports and advanced filtering engine
Invoice directly from the sales order
Streamlined critical control processes
Flexible merchandising supply
Real time access to actual data and performance
Email statements and invoices to customers
Strong back-dating functionality
Multiple stock ordering formulas per stock item
Integration of debtors, stock, and general ledger
Advanced security, integrity, and support
Drill down functionality to manage inventory and employees
Reliable and accurate management reporting.
Enable/disable credit limit check in quotes, job cards, and sales orders
Extended Debtors/Creditors/Ledger allocations
User Definable Menu Shortcuts
SMS and Email Marketing
About Lawnmower Repair Centre
The owner, George Neilsen, greatly values the reputation for client service and honest business dealings. We have a completely furnished workshop with qualified and friendly experts who undertake repairs and servicing to a wide range of garden power products, from the smallest electric and petrol edge-trimmers, chainsaws and household lawnmower to industrial grass cutting equipment and lawn tractors. We additionally sharpen pruners, shears, axes, and slashers. What's more, we can change blades while you wait, do loose starter repairs to petrol driven garden equipment like lawnmowers and brush cutters, sharpen chainsaw cutting chains, regardless of whether supplied loosely or on the actual chainsaw, and have a cylinder lawnmower sharpening machine on-site.