Mica Central Hardware chooses IQ Business for Its Effective Reporting Functionality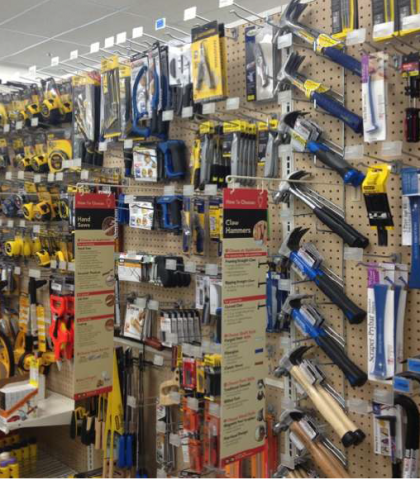 When Mica Central Hardware, a long-established hardware store in Fish Hoek, Cape Town was looking for an ERP solution to support their business, they opted for IQ Retail's Business solution.
Mica is South Africa's leading expert in DIY and hardware, stocking over 12 000 items, specialising in quality products for building and plumbing supplies, bathroom, hardware, power tools, gas, paint, garden, pool care, outdoors and more.
An IQ Retail client since August 2015, Mica Central Hardware required a solution that offered extensive reporting with the option for reports to be emailed and saved in various formats, with the added functionality of automatic month end rollovers. IQ Retail Business Partner, Juan du Preez from A Plus Financial IT, recommended IQ Business to Mica Central Hardware for its bespoke functionalities.
Valencia, Accountant at Mica Central Hardware's said "We went with IQ as it came highly recommended by other Mica branches that were already using IQ Retail and Mica Head Office also makes use of the system". Mica previously used an outdated solution that did not offer functionalities such as reporting and emailing from the system. Valencia added; "We use IQ Retail on a day-to-day basis for our invoicing, debtors and point of sale, making it easier to trade and to do business".
Mica Central has grown exponentially over the recent years, currently processing approximately 300 invoices per day, proving that having the right ERP solution in place is critical to the success of the business. IQ Business has supported the overall processes, ensuring Mica Central can efficiently and effectively manage the end-to-end processing of all transactions.
Jan Uys, Owner commented; "IQ Retail offers us the complete package. The integration from POS to debtors to stock control, makes IQ Business everything in one."
A business that began trading in 1971, Mica Central will continue to keep their ERP system up to date so that the business can continue to maintain operational efficiency and benefit further from IQ Business functionalities, such as:
Comprehensive stock reporting and standard reports
Customised reports and advanced filtering engine
Invoice directly from the sales order
Real time access to actual data and performance
Email statements and invoices to customers
Strong back-dating functionality
Juan du Preez from A Plus Financial IT commented "We have a long-standing relationship with Mica Central. IQ Business adds real value to the operations of their business, enabling them to continue to service their customers efficiently and effectively as they have over the past 47 years".
Owner Jan Uys added "IQ is a simple and reliable system which all staff members can operate comfortably after relatively short training. It offers a wide range of solutions which assist greatly in our day-to-day operations. End of day functionality is an easy and very informative tool".
About Mica Central
Founded in 1947, Mica Central Hardware has approximately 45 employees and is a franchise of Mica.
Mica is one of the largest hardware groups in Africa with over 140 stores nationwide and growing. Mica is member owned and managed by a small team of retailers who are passionate about the success of members in everything they do, providing a full support system including training, marketing, finance, merchandise and store development.
For more information: www.mica.co.za