Midas Paints Somerset West Invests in IQ Retail to Improve Productivity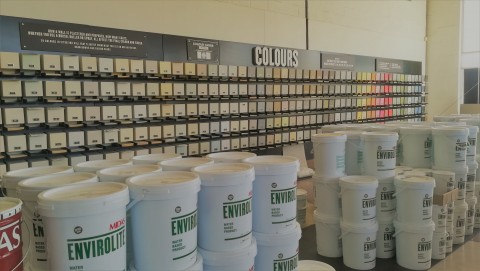 Midas Paints, a leading paint manufacturer, and a member of the Paintsmiths group, was established in 1996 and are creators of great South African paints and environmentally friendly products.
An IQ Retail customer since 2006, Midas Paints required a solution that could improve productivity and various business processes.
Cyril Bekker, Owner at Midas Paints, said "Before we implemented an IQ Retail solution, we did not have a system in place. We were introduced to IQ Retail, through the First Accountants, as a preferred system compared to competitive products in the market. We were looking at two other options but invested in IQ Retail's legacy program, IQ Elite. We upgraded to a newer version of IQ in 2017 called IQ Business as IQ Elite had become outdated and was no longer supported." Cyril added, "Authorised business partner of IQ Retail, Jan du Preez from Best Prospects, assisted with the upgrade and have been supporting us ever since."
Jan du Preez from Best Prospects have been an authorized IQ Business Partner for 30 years.
Jan commented, "It is with pride that Best Prospects were able to upgrade Cyril and his team from IQ Elite to IQ Business. They adapted quite naturally, and it was evident that Midas takes their business seriously and liked the ease of use and controls that IQ offered their business. From Debtors, Stock, and Quotes to their Ledger (Cashbook) and general accounting, just to mention a few points. They really have their finger on the pulse of their business." Jan added, "As always, even in this lockdown period, we are manning the support desk, and are always ready to offer advice and assistance to all our IQ users."
IQ Business is a broad based financial and functional solution that utilises the latest business trends and best practises to place those vital controls in your business that you deem necessary.
Cyril from Midas Paints commented, "Our branch consists of 10 staff members and two directors, all branches are self-owned. Considering the size of our business we were looking for a system that would be simplistic, user-friendly, and easy to use. IQ Retail met the criteria."
Cyril added, "Upgrading to IQ Business was a learning curve as we were used to IQ Elite. It took some time getting used to the new system in the beginning as the functionality as well as the look and feel was very different compared to our previous system." Furthermore, Cyril said, "That being said, with IQ Business there's more security which is very good. All in all, IQ Business gives us what we need, when we need it. We are really happy with both the system and the service."
Gains & Benefits of IQ Business that Midas Paints enjoys:
Biometric integration
Automated Month End's
Back Dated Statements
Extensive product re-ordering module
Delivery and collections module
Comprehensive stock reporting and standard reports
Email statements and invoices to customers
Strong back-dating functionality
Advanced security, integrity, and support
Advanced POS
About Midas Paints
Our "one stop shop" status allows for a wide range of coating choices regarding colour, effect, price, durability and application, and a dedicated research & development department is there to develop samples to meet your specific requirements. In addition, we provide technical troubleshooting, delivery and training (to both the buyers and the applicators) so as to ensure we are assisting you from start to finish.
All our paints at Paintsmiths are rated by our Green Filter, clearly indicating VOC (Volatile Organic Compounds) and other chemical content. We believe in being transparent – we want to give you healthier, more ethical choices.
Together Midas and Earthcote have been able to fine-tune customer service excellence and focus on new product development, which are the same exacting values and standards you will find now entrenched in the Paintsmiths brand.
For more information:
www.earthcote.co.za & www.paintsmiths.co.za