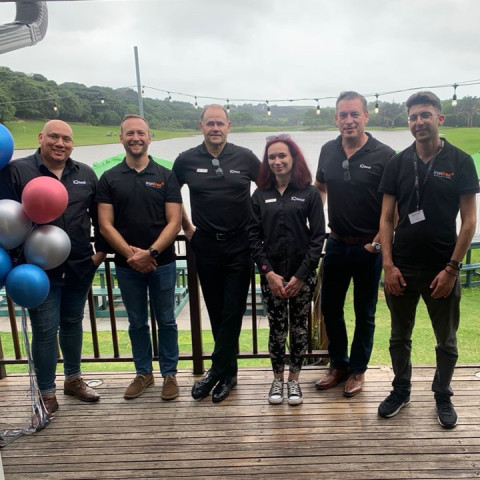 The IQ Retail team have hit the road! After almost 2 years, we had the opportunity to host our annual roadshow event in Johannesburg, Stellenbosch, and Durban.
Time and money… Two commodities that are possibly deemed the most valuable in the world. For the IQ Retail team, however, there is one thing that trumps both in value: face time with our Business Partners and customers. So, it wouldn't be hard to imagine that we were extremely excited to have the opportunity to host our annual Business Partner roadshow again this year.
Johannesburg, Stellenbosch, and Durban were in for something big as we geared up to paint all 3 locations red – or in our case, navy, grey and magenta…
Each event was kicked off with an opening address, followed by deep-dives into the following topics:
Business updates: Highlights and testimonials from 2022 were discussed, along with our FY23 strategy.
Channel overview '22: We reflected on some of our BPs' performance highlights for the year.
Marketing: IQ's Marketing team discussed our main focus areas for 2023, how BP's can become involved in our campaigns, and the benefits their brand can enjoy.
Cyber security: Our guest presenter, IronTree Solutions, spoke about critical factors businesses need to consider to keep their infrastructure and data secure from cyber criminals.
Channel focus '23: We spoke about the industry verticals and solutions we want to grow in the new year, the new annual BP grading targets, and platforms that BPs can access to learn more about our solutions.
Development and Product roadmap: After a review of this year's development highlights, our Director, Michael Reyneke, provided several exciting updates on what 2023 has in store. Expect:
several functionality updates,
more 3rd-party integrations, and
additional enhancements to mobile apps like ePOD, eSales, and eReceipt.
Value-added selling: Dion le Roux, our Johannesburg Channel Manager, provided valuable tips and insights into:
new sales opportunities for our BP's,
how and where they can invest their efforts to generate new business and grow their profit margins.
Attendance and overall feedback from all 3 events were extremely positive. We would like to thank our BP's for taking the time to join us and making the roadshow a success. The IQ team looks forward to a continued, healthy partnership with each of our BP's.