ON TAP opts for IQ Retail as Their Preferred Business Management & Accounting Solution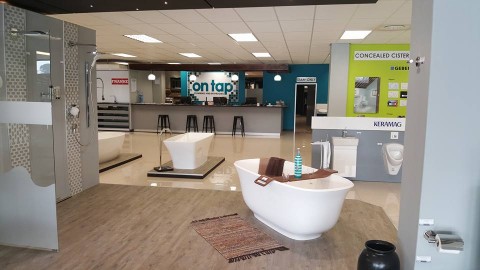 ON TAP, leading Plumbing and Bathroom supplier, was established in 1990 in Pietermaritzburg. Their objective was to focus solely on supply the plumbing merchants with plumbing and bathroom supplies as they realised there was a need for such a service in the market.
The ON TAP Group have grown successfully and have opened multiple branches over the years. Given their growth, they required a software solution to help streamline their business processes. ON TAP looked at various solutions to support their businesses but IQ Retail would become their partner of choice.
ON TAP will be moving all of their stores over to IQ, the first of which was based in Somerset West. The plumbing and bathroom supplier's Head Office were planning on moving all of their stores onto IQ Retail in 2016 but with yet another store that was due to open that year, they deemed it the perfect opportunity to see what the system could do.
ON TAP Somerset West Business Partner, Dave Dean from I2O Consulting, commented that, "The setup in the beginning was a bit challenging. The Somerset West branch was the first ON TAP store to go over to IQ, which meant that it came with a few challenges in the initial stages of this change over. We spent a few weeks of sorting through some of the initial detail, taking care of stock transfers and so forth. This was definitely a learning curve and we managed a successful implementation of the IQ Enterprise solution which has been working very well for them."
ON TAP Somerset West Branch Manager, Bonnita Groenewald said, "IQ Retail's solution was the perfect fit for the type of business that we have. It really offered all the benefits that we required. The IQ Enterprise system is a really good one, and the fact that we don't have to ask head office for support if and when required was an added bonus, we can communicate directly with IQ when need be which also saves us time and effort. The IQ support team is really helpful - the support ticketing system that they have in place is very effective."
Bonnita added, "We process about 50 transactions on a daily basis which comprise of both big and small transactions - we are able to do everything on IQ. It really makes such a big difference to be able to work from one integrated system as opposed to two or three different systems. Working from multiple systems poses many challenges so this just makes life easier in that regard. IQ Retail is a good system for a lot of different reasons and would be suitable for many different companies and different products - you can do everything on IQ; your debtors, creditors, ledger, sales, purchase orders and more. What's more is that our IQ Business Partner is also able to assist via team viewer and is still a really great help!"
Gains & Benefits of IQ Enterprise that ON TAP Stores get to enjoy:
Comprehensive stock control
Automated Email statements and invoices to customers
The integrated customer loyalty module with a central customer database – this allows for the awarding of points, commission or values to customers based on the products they have purchased. Each product can be pre-allocated with loyalty scoring methods based on points, commission percentage or a fixed value.
Stock control figures are theoretical and actual and include re-order levels and reorder quantities with warning indicators. Re-order reporting automatically extracts only those items that are required to be re-ordered and indicate the best price and preferred supplier.
The general ledger has the facility to print detailed or summarized VAT reports, ledger account analysis, ledger audits and the option to export ledger accounts with monthly movement figures to a 3rd party accounting system.
Customised reports and advanced filtering engine
Multiple stock ordering formulas per stock item
Invoices, Credit Notes, Goods Receiving, Returned Goods
Purchase Orders, Sales Orders, Job Cards
Dimensions control per Stock item
About ON TAP
In June 1996, the first franchise proudly opened in the neighbouring city of Durban, some 90 kilometres away, to serve the public. Today over twenty-five years later, the ON TAP Group consists of owner-managed franchise outlets across South Africa, with the vision of becoming the leading retailer for bathroom, sanitary ware, kitchen and plumbing supplies in South Africa. The ON TAP Brand has come from humble beginnings in a small town to be a well-known and respected retailer across the country. This has seen the ON TAP brand become a household name and a partner to homeowners and those who are in the trade alike.