Timbercity Somerset West Chooses IQ Business for its Successful Reputation in the SME Market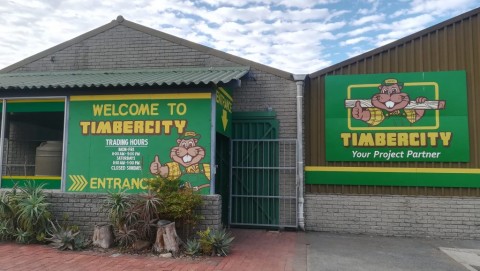 A leader in the SME market, Timbercity Somerset West required a business solution that was user friendly and that offered the best value for their money. They opted for the IQ Business solution as it fulfilled their requirements.
Timbercity is a leading retailer specialising in timber, board, and hardware for cabinetry and carpentry applications, and has maintained their status for more than 43 years.
They also provide related services like board cutting, edging, and the pre-drilling of hinge holes, focused on saving customers time and money.
With co-owner, Dirk Viviers, having prior experience on IQ Retail solutions, it was not a difficult choice to implement IQ Business at their Timbercity store.
"Timbercity is a franchised business, each owned independently. My partner at Timbercity Somerset West owns two other Timbercity branches co-owned by a different partner, also using the IQ Retail solutions. He has recommended IQ to a couple of other Timbercity stores, and I believe over 10 stores are now on IQ Retail," said Dirk. He added, "IQ Retail is well known in the SME market. We implemented IQ Retail in March 2015. Timbercity Somerset West has 10 logon users, and process between 2000 and 3000 transactions on a monthly basis. IQ Business is user friendly, easy for staff to work on and be trained on. There's a lot of solutions out there, but IQ has proven to be a very affordable, simplified, user friendly and easy to operate. As we further establish and continue to grow our business we need a solution that offers the best value for our money and that will aid us in growing our business – this is why we choose IQ Retail to partner with our business."
Dirk shared; "IQ Business is a live system where we do our daily business and transacting. It has our inventory on the system. I can view the stock and make changes. I can also do my sales and quotations on the same system. It offers me an all in one solution to do my day to day business on, and I am able to run my business effectively with IQ Business". Adding that, "If you can't measure something then you can't manage it, and with IQ Retail solutions you can measure everything properly. There's a lot of different reports that you can pull and a lot of information that you can retrieve from the system in order for you to run your business successfully."
Lastly Dirk added, "Another benefit of using IQ Retail is that their support team and business partner support is really good. I am very happy with the support provided by both the BP and the team at the IQ office. I have never waited long for assistance with a problem on the system, and there's always a way to bypass the problem and workaround it, so business can still go on."
Gains and Benefits:
Drill down capability on any transaction
Reconcile stock quantity movement
Maintain multiple stock locations within a single company
Comprehensive stock reporting and customisation of standard reports
Multiple stock ordering formulas per stock item
Integration of debtors, stock and general ledger
Integrated processing of :
Invoices, Credit Notes, Goods Receiving, Returned Goods,
Purchase Orders, Sales Orders, Job Cards
Some modules included in the IQ Business solution:
Accounts Receivable
Accounts Payable
Inventory (Stock)
Point of Sale
Job cards
Quotes
Purchase Orders
Sales Orders
Bill of Quantities
Report Writer
About Timbercity
Timbercity specialise in providing robust products at competitive prices, along with excellent advice. With 40 years of experience in providing superior products, outstanding service and successful branding and advertising, Timbercity has become one of Southern Africa's most recognized and trusted brands. We are proud of our reputation as it is the embodiment of all we stand for and believe in. Our customers and suppliers expect the best from us and we are determined to continue to deliver it.
For more information: www.timbercity.co.za