Surviving Loadshedding with the IQ Offline POS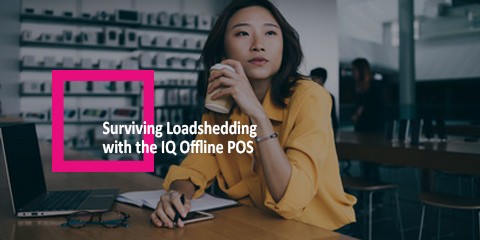 The current reality of living in South Africa is that we have to deal with loadshedding. And we will most likely be dealing with rolling blackouts  for another eighteen months to come in order for maintenance on Eskom's infrastructure to take place. This is not just an issue for South Africans in their private capacity but for businesses as well. Every time Eskom implements loadshedding, it costs our economy up to R1 billion.
Internet service providers have put contingency plans in place but their infrastructures are also taking strain. Business owners cannot afford to not have back up plans in place for when loadshedding hits. Back up plans such as having generators in place could make a big difference. But what about devices that rely on internet service providers' connectivity?
We have to be clever and find ways to work around these types of issues. IQ Retail for example offers a solution with a supplementary feature  that could assist companies to carry on with their business, whilst the internet is down. A solution such as IQ's Offline Point of Sale (POS) could make a huge difference so as to not experience business down-time.
This feature allows users to continue trading on a localised instance of the IQ software in the event of connectivity failure. Therefore businesses will be allowed to continue to process sales without an internet connection.
What can IQ's Offline POS do?
In the event of a connection failure, IQ's Offline  POS handles data transfer between the Head office and Branches and vice versa. It generates and prepares table data that branches can collect, and can access the table data and reintroduce the modified data back into the business' standard IQ software.
The End of Day (EOD) process generates the till data file, on the Branch side, and imports the till data, on the Head Office side.
Benefits of the offline POS
Utilise FTP protocol to send files to branch and head office and vice versa
Trade offline in POS
Send stock, departments, promotions, and promotion items from head office to branch.
Transactions to stock and ledger are posted after the EOD process at branch and head office
IQ Retail offers offline POS as a supplementary feature. Capture all the relevant point-of-sale data with the fully integrated solution IQ POS with built-in flexibility for single or multi-site terminal capability.
Click HERE to contact us today to find out more about how our retail solutions can benefit your business.