What POS Systems Can Do for Restaurant Management Performance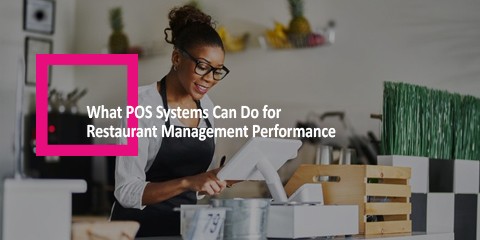 Hospitality and restaurant environments require a dedicated management solution with dynamic functionality. The solution must handle multiple transactions, optimise staff efficiency, balance inventory, and maintain a competitive service offering.
A POS system tailored for restaurant management can go beyond sales, inventory and stock management to ensure superior customer service and streamlined operations. In this blog, we look at new ways an integrated POS system can boost restaurant performance.
Customer analysis and forecasting
For any hospitality business, excellent customer service is key. This is enhanced by an anticipation of the needs of the client and their purchasing behaviour. For restaurants, analysing relevant data such as best-selling menu items and average revenue per customer gives management better insight into opportunities for change and revenue growth.
An integrated POS system can continuously provide transaction data to enable accurate sales analytics reporting and trend forecasting. It helps identify customer buying behaviour in peak and low seasons. Management can then decide to upgrade menus, change prices, provide value-added services and run more promotions to incentivise the clientele.
Proactive risk management
The functionality of POS systems covers effective stock management and inventory control, which includes tracking orders, accessing real-time inventory updates, and organising transaction data.
However, through integration with ERP and financial systems, it also offers management a complete overview of operations and contributes to better risk mitigation. Without reliable POS data, restauranteurs are unaware of potential risks such as misplaced orders, inaccurate payments and low stock.
Value-added services
Integrating more advanced POS system functionality can increase sales and marketing opportunities for restaurateurs. For example, a customer loyalty plan can have a positive effect on boosting market competitiveness and retaining clients.
Adding more value for customers – such as the ability to book tables in advance or order takeaway menu options, translates into better customer satisfaction and increased revenue.
The IQ Restaurant point-of-sale management solution gives you complete inventory, staff and transaction control. Designed to interface with waiter stations and multiple transaction areas, it boosts productivity, stock control and performance analysis.